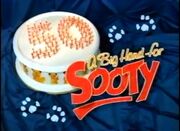 A Big Hand for Sooty is a documentary by ITV in honor of Sooty's 50th anniversary. It aired on October 11th 1998 on ITV and focuses on the main history of Sooty. It also includes guests to discuss their own personal opinions on Sooty.
Video
Ad blocker interference detected!
Wikia is a free-to-use site that makes money from advertising. We have a modified experience for viewers using ad blockers

Wikia is not accessible if you've made further modifications. Remove the custom ad blocker rule(s) and the page will load as expected.