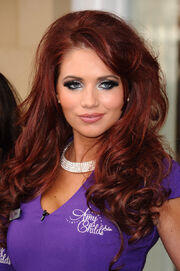 Amy Childs (born in Brentwood, Essex, England, UK, June 14th, 1990) is a reality television participant best known for appearing in "The Only Way is Essex" and "Big Brother 8". She also guest starred in the Sooty second series episode Fitness Funatic where she played the manager of the new health spa.
Ad blocker interference detected!
Wikia is a free-to-use site that makes money from advertising. We have a modified experience for viewers using ad blockers

Wikia is not accessible if you've made further modifications. Remove the custom ad blocker rule(s) and the page will load as expected.