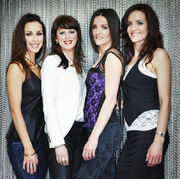 B*Witched is an Irish girl group who are made up of Sinéad O'Carroll (born in Dublin, May 14th, 1973), Lindsay Armaou (born in Athens, Greece, December 18th, 1978) and twin sisters Keavy and Edele Lynch (born in Dublin, December 15th, 1979). They first formed in 1998 and split in 2002 before reforming in 2012. They're hits include "C'est la Vie", "Rollercoaster", "To You I Belong", "Blame it on the Weatherman", all of which got to number one in the UK charts. They also appeared in the Sooty second series episode Disco Disco.
Ad blocker interference detected!
Wikia is a free-to-use site that makes money from advertising. We have a modified experience for viewers using ad blockers

Wikia is not accessible if you've made further modifications. Remove the custom ad blocker rule(s) and the page will load as expected.