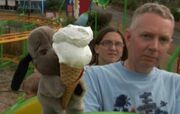 Brian Sandford has been Sweep's puppeteer since May 1987.
Brian got the job as his father, who at that time was the theatre manager of The New Theatre in Hull, knew Matthew Corbett. Matthew had been taking his theatre tour to Hull for many years, and Brians' father took the opportunity to hand Matthew Brian's CV.
He makes cameos in both the feature-length special, The Big Day Out and the first episode of the 2011 series of Sooty, The Wedding. He can also be seen in the second series episodes The New Building where he dodges the runaway toilet and The Genie where he and Brenda Longman get ice-creams magicked into their faces by the Genie.
Gallery
Ad blocker interference detected!
Wikia is a free-to-use site that makes money from advertising. We have a modified experience for viewers using ad blockers

Wikia is not accessible if you've made further modifications. Remove the custom ad blocker rule(s) and the page will load as expected.