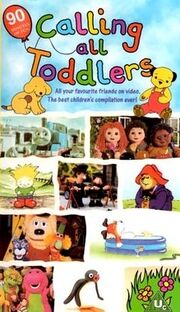 Calling All Toddlers is a children's compilation tape that featured the Sooty's Amazing Adventures episode Scampi and the Computer Chips.
Episodes
Kipper - The Paddling Pool
Postman Pat and the Hole in the Road
William's Wish Wellingtons - William the Conkeror
Pingu Goes Cross Country Ski-ing
Tots TV - Super Tiny
Fun Song Factory - Colours
Spot Stays Overnight
Paddington Bear - Paddington Goes Underground
Thomas The Tank Engine - Thomas' Train
Barney's Musical Scrapbook
Ad blocker interference detected!
Wikia is a free-to-use site that makes money from advertising. We have a modified experience for viewers using ad blockers

Wikia is not accessible if you've made further modifications. Remove the custom ad blocker rule(s) and the page will load as expected.