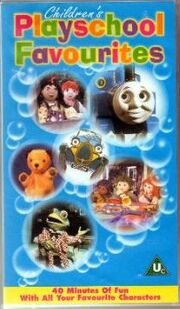 Children's Playschool Favourites
Is a Video To Raise Money For Charity
Episodes
Thomas The Tank Engine - Thomas and The Special Letter
I'm a Little Teapot (clip)
Sooty and Co - Soo's Babies (clip)
Brum - Brum and the Flood (clip)
Tots Video - Animal Adventures (clip)
Rosie & Jim - Acrobats (clip)
The Wind In The Willows - Mercury of the Motorbicycle (clip)
Trivia
The video was released in 1997.
This was the last "Children's Pre-School" video by VCI.
"Thomas & the Special Letter" is the only episode on the video to be shown in its entirety, the others are only clips.
Gallery
Ad blocker interference detected!
Wikia is a free-to-use site that makes money from advertising. We have a modified experience for viewers using ad blockers

Wikia is not accessible if you've made further modifications. Remove the custom ad blocker rule(s) and the page will load as expected.