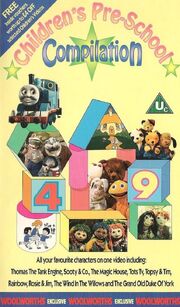 Children's Pre-School Compilation
is a VHS released to raise money for charity.
Episodes
Sooty & Co. - Moving In (clip)
The Magic House - Air Fare (clip)
Tots TV - Lemur (clip)
Rainbow - New Friends (clip)
Rosie and Jim - Eggs/Puppet Show (clips)
Topsy and Tim go to School
The Wind in the Willows - The Tale of Two Toads (clip)
The Grand Old Duke of York - Here We Go The Mulberry Bush (clip)
Trivia
Trust Thomas and Topsy and Tim go to School are the only episodes on the video to be shown in their entirety, the others are only clips.
Goofs
The Video Collection ident does not appear at the very end of the video.
Gallery
Ad blocker interference detected!
Wikia is a free-to-use site that makes money from advertising. We have a modified experience for viewers using ad blockers

Wikia is not accessible if you've made further modifications. Remove the custom ad blocker rule(s) and the page will load as expected.