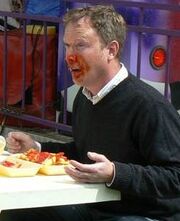 David Cadell is Richard Cadell's brother and co-owner of the company that currently owns the rights to Sooty, Cadells Ltd. He had a minor, uncredited role in the episode Down the Drain where his face was pushed into his ketchup-smothered chips. David later appeared, uncredited, in the audience for the dog show in It's a Dog's Life. He is a big fan of The Krankies.
Gallery
Ad blocker interference detected!
Wikia is a free-to-use site that makes money from advertising. We have a modified experience for viewers using ad blockers

Wikia is not accessible if you've made further modifications. Remove the custom ad blocker rule(s) and the page will load as expected.