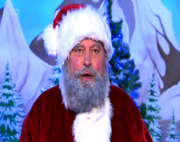 Father Christmas, or Santa Claus, has appeared in various episodes over the years.
He appears in the second series of Sooty in the episode Pranks and Presents where he enlists the help of Sooty to create some Sooty toys for Christmas. As a reward for their kind actions, Father Christmas gives Sooty, Sweep, Soo and Richard a present each. Unfortunately, Sooty and the gang have no recollection of their trip to the North Pole and assume that Mr. Slater gave them the presents. In this appearance, Father Christmas was played by Brian Blessed.
Trivia
Ad blocker interference detected!
Wikia is a free-to-use site that makes money from advertising. We have a modified experience for viewers using ad blockers

Wikia is not accessible if you've made further modifications. Remove the custom ad blocker rule(s) and the page will load as expected.