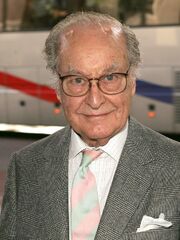 Frank Thornton (born as Frank Thornton Ball in Dulwich, London, England, UK, January 15th, 1921 - March 16th, 2013) is a British comedy actor who played the doctor in The Sooty Show episode in On the Piste. Frank is probably best known for playing Captain Stephen Peacock in "Are You Being Served?" and Herbert 'Truly' Truelove of the Yard in "Last of the Summer Wine".
Frank Thornton died peacefully in his sleep on March 16th, 2013 at the age of 92.
Gallery
Ad blocker interference detected!
Wikia is a free-to-use site that makes money from advertising. We have a modified experience for viewers using ad blockers

Wikia is not accessible if you've made further modifications. Remove the custom ad blocker rule(s) and the page will load as expected.