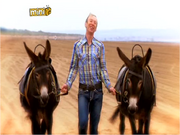 Friends with a Donkey is a song from the 2011 series of Sooty. It is sung by Richard during the episode, The Runaway Bath.
Lyrics
If I were best friends with a donkey
I'd walk on the beach all the day
We'd have lots of fun, spend time in the sun
And think of the games we could play!

It's great being friends with a donkey
There's so many things you can do
Yes, it's great being friends with a donkey
And there's always a carrot to chew!
Ad blocker interference detected!
Wikia is a free-to-use site that makes money from advertising. We have a modified experience for viewers using ad blockers

Wikia is not accessible if you've made further modifications. Remove the custom ad blocker rule(s) and the page will load as expected.