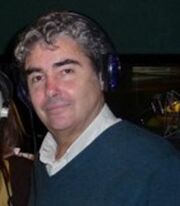 Jimmy Hibbert (born in Henley-on-Thames, Oxfordshire, England, UK, November 23rd, 1956) is a British voice actor and script writer who provided the voices of Little Cousin Scampi, Katarina, Cousin McScampi and Sir Oswald as well as several minor roles.
Episodes Written
Sooty's Amazing Adventures
Ad blocker interference detected!
Wikia is a free-to-use site that makes money from advertising. We have a modified experience for viewers using ad blockers

Wikia is not accessible if you've made further modifications. Remove the custom ad blocker rule(s) and the page will load as expected.