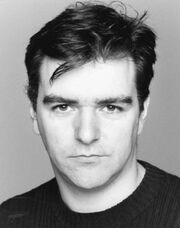 Jonathan "Jo" Dow (born in Redditch, Worcestershire, England, UK, March 23rd, 1965) is a British actor best known for his role as P.C. Stringer in the police drama The Bill. In 1994, he appeared in the second season Sooty & Co. episode Speedy Sweep as a policeman who chases Sweep who has hijacked camper van. Other credits include "EastEnders", "Casualty", "Doctors", "Family Affairs", and "Where the Heart Is".
Ad blocker interference detected!
Wikia is a free-to-use site that makes money from advertising. We have a modified experience for viewers using ad blockers

Wikia is not accessible if you've made further modifications. Remove the custom ad blocker rule(s) and the page will load as expected.