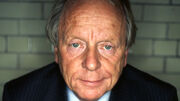 John Bird (born November 22nd, 1936) is a well-known Britsh impressionist and actor. He is perhaps best known for his work with John Fortune and Rory Bremner and their show "Bremner, Bird and Forture". He has also had guest roles in popular television series such as "Yes, Prime Minister" and "Jonathan Creek".
He appeared as himself in the Sooty & Co. episode, A Magical Voice where he was a travelling voice salesman and performed many different voices for Sooty and Matthew.
Gallery
Ad blocker interference detected!
Wikia is a free-to-use site that makes money from advertising. We have a modified experience for viewers using ad blockers

Wikia is not accessible if you've made further modifications. Remove the custom ad blocker rule(s) and the page will load as expected.