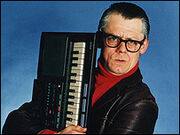 John Shuttleworth is a fictional singer-songwriter and radio presenter, created and portrayed by Graham Fellows. He guest starred in an episode of Sooty called The Alarm System in September 2011. He played Police Officer Shuttleworth.
He also appears as himself, uncredited, in the episode Pizza to Go where he is hit by a pizza.
External Links
Ad blocker interference detected!
Wikia is a free-to-use site that makes money from advertising. We have a modified experience for viewers using ad blockers

Wikia is not accessible if you've made further modifications. Remove the custom ad blocker rule(s) and the page will load as expected.