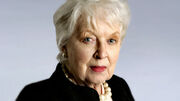 June Whitfield (born in Streatham, London, England, UK, November 11th, 1925) is an actress from "Last of the Summer Wine", "Terry and June", and "Absolutely Fabulous". She has also lent her voice to "Bob the Builder". She appeared in the The Sooty Show episode Star Gazing as Auntie Gertrude.
Ad blocker interference detected!
Wikia is a free-to-use site that makes money from advertising. We have a modified experience for viewers using ad blockers

Wikia is not accessible if you've made further modifications. Remove the custom ad blocker rule(s) and the page will load as expected.