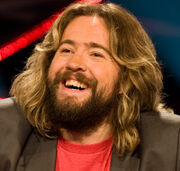 Justin Lee Collins (born in Bristol, England, UK, July 28th, 1974), often known as JLC, is a comedian and television presenter best known for his work on the shows "The Sunday Night Project", "The Justin Lee Collins Show", "Oops TV", and many others.
He guest starred in an episode of the new Sooty series. He played an evil go-kart racer, Fred Firewheel in the episode, The Great Race.
He later appeared as himself, uncredited, in the episode Pizza to Go where he is hit in the face with a pizza.
Ad blocker interference detected!
Wikia is a free-to-use site that makes money from advertising. We have a modified experience for viewers using ad blockers

Wikia is not accessible if you've made further modifications. Remove the custom ad blocker rule(s) and the page will load as expected.