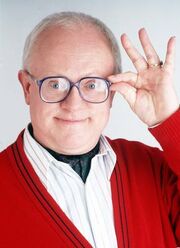 Ken Morley (born in Chorley, Lancashire, England, UK, January 17th, 1943) is a British actor best known as the eccentric character Reg Holdsworth in the soap opera Coronation Street which was filmed just around the corner from Sooty & Co.
He starred in the Sooty & Co. episode Shop-Keeping as Mo's brother, where he reported that Sweep had spent the week with him.
He later made a guest appearance in the 2011 series as inspector Hubert Fanshawe in the episode, Run Rabbit Run.
Ad blocker interference detected!
Wikia is a free-to-use site that makes money from advertising. We have a modified experience for viewers using ad blockers

Wikia is not accessible if you've made further modifications. Remove the custom ad blocker rule(s) and the page will load as expected.