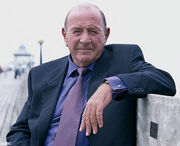 Mike Reid, (1940-2007), is a British actor and comedian perhaps best known for playing lovable rogue Frank Butcher in the British soap opera EastEnders. He appears in The Sooty Show as a burglar in Statley Home and Nothing Ever Happens. He died of a massive heart attack in 2007 at his home in Spain.
Ad blocker interference detected!
Wikia is a free-to-use site that makes money from advertising. We have a modified experience for viewers using ad blockers

Wikia is not accessible if you've made further modifications. Remove the custom ad blocker rule(s) and the page will load as expected.