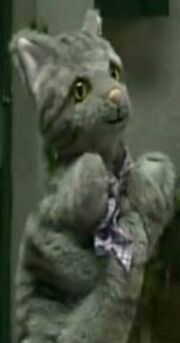 Miki is a grey tomboyish cat from Brazil. She appeared in the latest series entitled Sooty. In the hotel, she works as a chef.
Voice Actors
Trivia
After the series ended, Richard Cadell, when asked if she would appear in the new series, said she had gone back to Brazil. Therefore she will not be returning to the series but she does keep in touch with the rest of the gang!
Her puppet was reused for Kipper the Cat in The Big Day Out onwards.
Ad blocker interference detected!
Wikia is a free-to-use site that makes money from advertising. We have a modified experience for viewers using ad blockers

Wikia is not accessible if you've made further modifications. Remove the custom ad blocker rule(s) and the page will load as expected.