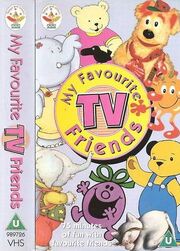 My Favourite TV Friends is a compilation video featuring an episode of Sooty's Amazing Adventures.
Programmes
The Blobs - The Homeless Giant
Goodnight Everyone
Elephant Pie
Little Miss Naughty
Teddy Trucks - Jacko's Unusual Cargo
Bump - Auntie Doreen's Surprise
Anytime Tales - I Want a Cat
Anytime Tales - Two Can Toucan
Party Time at the Fun Song Factory
Ad blocker interference detected!
Wikia is a free-to-use site that makes money from advertising. We have a modified experience for viewers using ad blockers

Wikia is not accessible if you've made further modifications. Remove the custom ad blocker rule(s) and the page will load as expected.