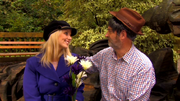 Nick Bennett is currently in charge of sound for the series and has made several cameo appearances in Sooty. He often appears with a sliver wig which always ends up getting removed from the top of his head when he is not expecting it. He first appeared in The Farm; his wig got knocked off his head by a flying doughnut. He then made a cameo appearance in Five Star Fish; his wig got accidently pulled off his head by Sooty and Sweep's fishing rod. He appeared as a credited guest star in the education special, Sooty's ABC Adventure; his wig gets stolen by Sooty.
Ad blocker interference detected!
Wikia is a free-to-use site that makes money from advertising. We have a modified experience for viewers using ad blockers

Wikia is not accessible if you've made further modifications. Remove the custom ad blocker rule(s) and the page will load as expected.