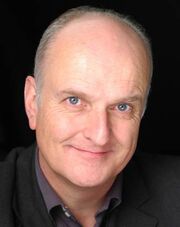 Peter Dickson (born in Belfast, Northern Ireland, UK, June 23, 1957) is one of the most prolific voice artists on British television. He is perhaps best known for being the voice-over for "The X-Factor" and "Britain's Got Talent". Other credits include "The Price is Right", "Family Fortunes" and "Live at the Apollo" as well as being the voice-over man for the channel E4.
He is heard as the voice of Sooty in the second series episode of Sooty, The Genie. His voice is also heard as the announcer at the fireworks display in Fireworks.
Trivia
He is, to date, the only guest star to appear twice and credited for it on Sooty
Ad blocker interference detected!
Wikia is a free-to-use site that makes money from advertising. We have a modified experience for viewers using ad blockers

Wikia is not accessible if you've made further modifications. Remove the custom ad blocker rule(s) and the page will load as expected.