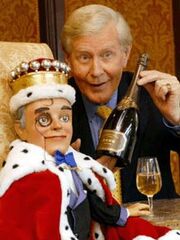 Ray Alan and Lord Charles (1930 - 2010) was a ventriloquism act that appeared in The Sooty Show episode Soo's Party Problem.
In May 2010, Ray Alan died peacefully in his sleep at his Surrey home after complaining he was not feeling well. His death was described as "very sudden" by his agent. He was aged 79.
Ad blocker interference detected!
Wikia is a free-to-use site that makes money from advertising. We have a modified experience for viewers using ad blockers

Wikia is not accessible if you've made further modifications. Remove the custom ad blocker rule(s) and the page will load as expected.