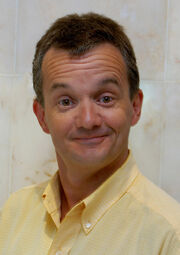 Richard Gauntlett is a comedian and actor who has written and appeared in countless pantomimes. He was also one of Bob Hoskins' stunt doubles in the film "Who Framed Roger Rabbit". He guest starred in the Sooty Show episode Sweep's Family where he played a Entertainagram. He is now an episode writer for the second series of Sooty.
Episodes Written
Ad blocker interference detected!
Wikia is a free-to-use site that makes money from advertising. We have a modified experience for viewers using ad blockers

Wikia is not accessible if you've made further modifications. Remove the custom ad blocker rule(s) and the page will load as expected.