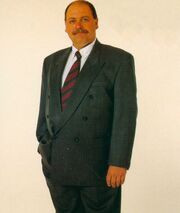 Roger Walker is a British actor who portrayed some guest characters in the Sooty Show. He played the Battersea Burgler for the Birmingham Broque dressed as Father Christmas in Sooty's Christmas Party and Simon Smartypants in Only Joking. Roger took over Matthew Corbett's role in the singing group Rod, Jane, and Matt for a short while. Freddy Marks then took Roger's place and became the popular threesome Rod, Jane and Freddy. He has also had numerous minor roles in long-running British television series.
Ad blocker interference detected!
Wikia is a free-to-use site that makes money from advertising. We have a modified experience for viewers using ad blockers

Wikia is not accessible if you've made further modifications. Remove the custom ad blocker rule(s) and the page will load as expected.