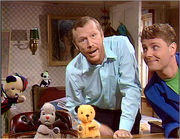 Save us from Cousins is a song featured in the Sooty & Co. episode Tidy Box.
Lyrics
Oh, save me from cousins
You heard correctly, that's what I said
Oh, save me from cousins
I need them like a hole in the head
They're never there when you need them
They're always there when you don't
They never do what you ask them
They say that they will, but they won't
Oh, save me from cousins
Here's a cry that comes from the heart
Oh, save me from cousins
They're cunning and incredibly smart
It's my experience with my one
That under himself he's a law
He always causes the trouble
And I always draw the short straw
Oh, save us from cousins
You love them, but they drive you quite mad
Oh, save us from cousins
Especially when behaviour is bad
Remember we're just one big family
and each of us really must try
You've got to forgive and forget things
And then we've got to say our goodbyes!
Ad blocker interference detected!
Wikia is a free-to-use site that makes money from advertising. We have a modified experience for viewers using ad blockers

Wikia is not accessible if you've made further modifications. Remove the custom ad blocker rule(s) and the page will load as expected.