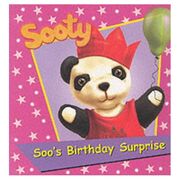 Soo's Birthday Surprise is a book based on the Sooty episode. It was published by Gullane Children's Books in 2002.
Plot
Soo is very excited because it's her birthday. But when she rushes downstairs to see if there are any lovely presents waiting for her it looks like all of her friends have forgotten about her special day! Soo is very upset so she leaves a note and runs away to the garden shed. Meanwhile, Miki and Sweep are causing chaos in the kitchen and Sooty seems to have gone missing. What are they all up to? And where has Sooty gone?
Ad blocker interference detected!
Wikia is a free-to-use site that makes money from advertising. We have a modified experience for viewers using ad blockers

Wikia is not accessible if you've made further modifications. Remove the custom ad blocker rule(s) and the page will load as expected.