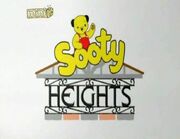 Sooty Heights is a television series that started on September 27th, 1999 and ended on December 11th, 2000. It was presented by Richard Cadell and Liana Bridges.
This series starts where Sooty & Co left off. Sooty, Sweep, Soo, and Little Cousin Scampi move into an old hotel which they now own callled Sooty Heights.
A lot of mischief goes on there with poor Richard caught in the middle of their pranks while he is trying not to upset the guests or doing something special for the hotel.
The series ended at Christmas with the Christmas special Sooty Jack and the Beanstalk. Richard then went on to make another series (Sooty) with Vicki Lee Taylor.
Cast
Gallery
Goofs
In the last episode of Sooty & Co. (which was Matt Remembers) Matthew Corbett said that Richard Cadell and Liana Bridges were going to look after that shop while he was going to look after a new one, however no mention is made of what happened to the shop in this series.
Ad blocker interference detected!
Wikia is a free-to-use site that makes money from advertising. We have a modified experience for viewers using ad blockers

Wikia is not accessible if you've made further modifications. Remove the custom ad blocker rule(s) and the page will load as expected.