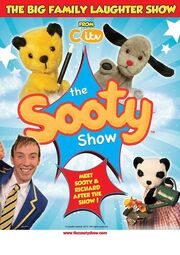 Sooty went on a 100 date UK tour from February 2014 to April 2015, but will be a 4 month break in between November and April as Sooty will be at Winter Wonderland in Manchester for the 2nd year in a row.
Plot
"Izzy wizzy, lets get busy - it's The Sooty Show! Direct from CITV, Sooty heads into town in a fabulous new show to delight the whole family. Joining the nation's favourite bear will be Sweep, Soo and Sooty's TV partner Richard Cadell, who will be attempting to keep Sooty from getting up to mischief! Boy will he have his hands full!
It's Sooty's birthday party and things aren't going to plan. Sooty and Sweep get messy baking the birthday cake, and will Soo ever decide which dress to wear?
Special party guests include legendary Sooty favourites Butch the bulldog and Ramsbottom the snake.
So join in with all the fun and games at Sooty's Birthday Party! There's also a chance to meet Richard and Sooty after the show.
A spectacular mix of magic, music and mess - guaranteed giggles for Sooty fans old and new! Don't miss it!
Trivia
The tour will be first full UK tour since Sooty in Space in 2009.
This will be Richard's first full year of touring with Sooty since 2009.
Butch and Ramsbottom will also appear
You will able to meet Richard & Sooty after the show.
Scampi doesn't appear in the show.
External Links
Ad blocker interference detected!
Wikia is a free-to-use site that makes money from advertising. We have a modified experience for viewers using ad blockers

Wikia is not accessible if you've made further modifications. Remove the custom ad blocker rule(s) and the page will load as expected.