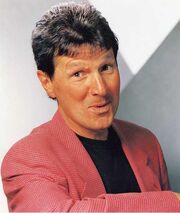 Stu Francis (born in Bury, Lancashire, England, UK, 1951) is a British comedian who is best known for presenting children's show "Crackerjack" alongside Basil Brush. He has also presented on CITV in the 1980's and guest starred in the Sooty second series episode Cow Capers as Farmer Francis.
Ad blocker interference detected!
Wikia is a free-to-use site that makes money from advertising. We have a modified experience for viewers using ad blockers

Wikia is not accessible if you've made further modifications. Remove the custom ad blocker rule(s) and the page will load as expected.