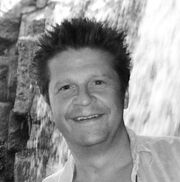 Stuart Loughland is an actor and illusionist who appeared in the Sooty & Co. episode Fun Park where he played the role of Merlin the Wizard. He is part of the illusionist duo "Safire", along with his wife Jayne, and have recently been starring in live stage shows with the Chuckle Brothers. 
Ad blocker interference detected!
Wikia is a free-to-use site that makes money from advertising. We have a modified experience for viewers using ad blockers

Wikia is not accessible if you've made further modifications. Remove the custom ad blocker rule(s) and the page will load as expected.