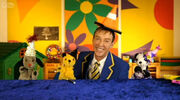 Text Santa 
is a charity initiative set up by ITV in 2011 to support various other charities around the UK at Christmas time. A "
Make it!
" episode of the charity's five minute television appeal "
Help with Hattitude
" featured the cast of
Sooty
 showing the public how to get involved. It was first shown on the CITV channel on Monday 25th November, 2013.
Plot
Sooty, Sweep, Soo and Richard are showing the public how to make wizard hats for "Text Santa" by using various craft materials from around the house. Sooty and Sweep mess about with the materials so much, that Soo wonders if they will ever finish there hats in time for the "Text Santa" telethon on Friday 20th November, 2013. Luckily Sooty saves the day by using his magic wand to finish off their hats instantly.
Characters
Guest Stars
Andy Akinwolere
Laura Hamilton
Trivia
This programme was repeated on Saturday 30th November, 2013 on ITV1 and the CITV channel, just before Panto Palaver aired.
Ad blocker interference detected!
Wikia is a free-to-use site that makes money from advertising. We have a modified experience for viewers using ad blockers

Wikia is not accessible if you've made further modifications. Remove the custom ad blocker rule(s) and the page will load as expected.