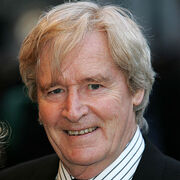 William Roache (born in Ilkeston, Derbyshire, England, UK, April 25th, 1932) is a British actor best know for playing the role of Ken Barlow in the UK soap opera Coronation Street which he played continuously since the series started in 1960. He appeared in the Sooty & Co. episode Sooty's Christmas Panto where he tried, unsuccessfully, to get a role in the pantomime.
Ad blocker interference detected!
Wikia is a free-to-use site that makes money from advertising. We have a modified experience for viewers using ad blockers

Wikia is not accessible if you've made further modifications. Remove the custom ad blocker rule(s) and the page will load as expected.